1) This morning I thought I'd get myself into some trouble, so I added to a trade.
2) They say, "never add to a losing trade," but they also say, "don't play in traffic." Which, now that I think about it, makes sense. Haha.
3) Anyway, I added to an AUD/NZD trade, because, well, the correlations went out of whack:
4) So, here's the situation:
5) Now, we're heading into the weekend, and I've got an open losing trade. I've got two options (well, that's as many as I'm considering).
6) Option 1: toss out this garbage trade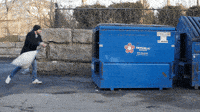 7) Option 2: Stay, fight, settle in for as long as it takes.
8) I've chosen option (2), naturally, because I'm insane like that. So here's the plan.
9) Add to the trade on a break below this trendline, and target the top bollinger band (bollinger is set to 800 because, again, I'm insane)
10) I'll send you an update on Sunday/Monday to let you know how this is going. And …
11) If you see smoke and/or fire coming out of my office, you'll know how the trade went. 🙂